HOME | ABOUT US | GIVING | SALVATION
Christine's Corner
by
Christine Schrader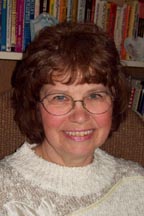 Don't Walk Alone
The poem 'Footprints in the Sand' is about a person who walked with God. The man saw two sets of footprints, but wondered why he only saw one set of footprints at the most difficult times in his life. He asked the Lord about it and the Lord told he that was the times when the Lord had to carry him.
I remember my teenage years. I felt lonely even though I was a Christian. The future was uncertain because I was so young. Then I met Tom, my soul mate, and life seemed to fall into place. We married and had a family of our own. When our daughters were little, God called us into the ministry. Looking back, I could see God's hand on my life.
"God setteth the solitary in families: he bringeth out those which are bound with chains: but the rebellious dwell in a dry land" (Psalm 68:6).
Michael Smith sang a song entitled 'A Place in the Sun'. It was about finding his place in life. It was popular because most people want to belong somewhere. They want to have a home, a place to hang their hat.
God has a plan for each life. God is good and He loves us. The first step to finding your place in the sun is to accept Jesus Christ as Savior and to walk with him. When you do, things will start to fall into place. Why would anyone want to walk alone?
God Bless
Christine